USTFCCCA News & Notes
Breaking Down the NCAA Division II XC Championships
LOUISVILLE – The NCAA Cross Country season is now officially over, and Saturday's Division II Championships at the E.P. "Tom Sawyer" State Park in Louisville, Kentucky, sent it out in style.
With about a week's worth of rain standing on the course, conditions were far from ideal (in fact, both the men's and women's races were shortened to 9560 meters and 5780 meters, respectively) which made the performances that took place through them even more impressive.
Adams State's men overcame a pre-meet No. 2 rank to win their third consecutive national title and their sixth in seven years, led by an individual title defense by Tabor Stevens and fourth- and fifth-place finishes by Kevin Batt and Matt Daniels that echoed their exceptional 2012 performances.
See the full men's results here.
Grand Valley State's women lived up to their No. 1 pre-meet billing with their third title in a row and fourth in the past five years. Individual champ Kendra Foley led a 1-2-3 sweep for GVSU with teammates Allyson Winchester and Jessica Janecke following close behind.
You can find the full women's results here.
Here's a more in-depth mix of recaps and takeaways from Saturday's action.
Tabor Stevens of Adams State is one of the greatest Division II Cross Country runners of all time
Tabor Stevens of Adams State about to cross the line for his second individual title in a row.
This may sound like a very subjective take, but take a look at the numbers objectively. He is just the fifth man in the history of the Division II 10k cross country championships since 1976 to win two consecutive national individual titles (and the eighth to win multiple titles, but even beyond that, his four-year resume is nearly unparalleled in DII lore.
With wins the past two years, a third in 2012 and a sixth in 2011, Stevens' career sum total of finishing positions at the NCAA Championships is a mere 11, second-best since the first 10k championship in 1976 only to the great Nicodemus Naimadu of Abilene Christian, who won four titles in a row in the mid 2000s. He displaced another two-time national champion in Michael Aish of rival Western State, whose career total is 13.
How did Stevens do it Saturday? It may have been to his advantage that, at times, the course looked more like his signature track event – the 3000-meter steeplechase – than a cross country contest. He said in a post-race interview with Flotrack that the conditions didn't much bother him, and he showed it over the final 3k of the race.
Just before Stevens made his move on Aaron Dinzeo of California (Pa.) to seal the win.
After coming through in a pack at the halfway point with eventual runner-up Aaron Dinzeo of California (Pa.), third-place Mike Biwott of American International and a handful of other leaders, he made a decisive move at around 7000 meters that gave him a 10-second lead by the time the 9000-meter split rushed by – very similar to his tactics a year ago on a similarly cold but much dryer course in Spokane, Washington.
He ultimately cruised through the finish line in 30:02.0 on the shortened course, 17.3 seconds clear of Dinzeo and 24.5 ahead of Biwott. Granted, the course was short, but his margin of victory was the12th-biggest since 1976 and the largest since Naimadu won by 25.9 seconds in 2007.
The win avenged an earlier loss this season to Biwott, Dinzeo, Batt and Daniels (in that order) at the Paul Short Run. He now has NCAA titles to his name ranging as high as 10k in the fall (twice), down to the 3000-meter steeplechase (twice) and even further down the ladder to the indoor mile for five total NCAA crowns.
GVSU Women: That's Why They've Been No. 1 All Year Long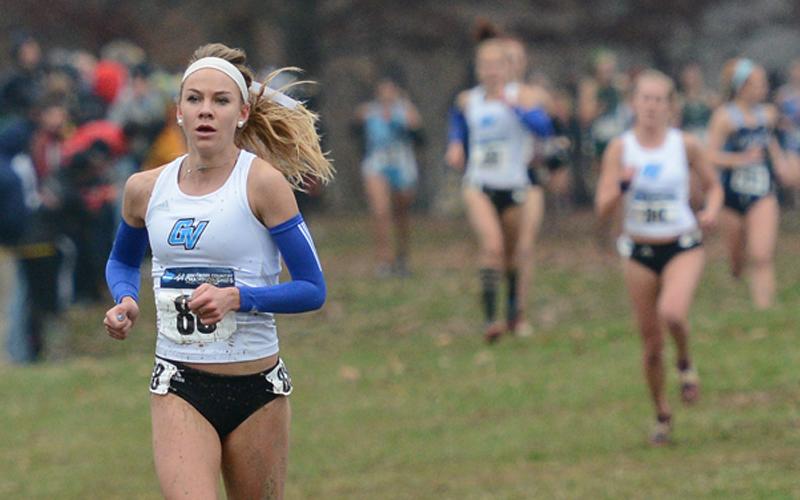 Individual champion Kendra Foley with teammates Allyson Winchester and Jessica Janecke swept the top three individual positions for Grand Valley State en route to a third-straight team title.
There are so many numbers that tell the story of Grand Valley State's dominant performance on Saturday. For instance, zero is the number of other women's teams since 1998 (the first year of the NCAA Division II 6k championship) that has had three runners sweep the top three individual finishes.
One is the number of other teams since the beginning of the Division II championships (including the years the race was 5k between 1981 and 1997) that has swept the top three individual positions. Lewis did so in 1997, but didn't win the title.
Another number? Try 65, the number of points by which GVSU won by over GLIAC rival Hillsdale with 115 points. That is the largest margin during GVSU's run of four titles over the past five years, the largest margin since Adams State won by 115 points in 2007, and the seventh-biggest margin of all time.
The Lakers took control of the race right from the start and didn't cede any ground over the next 5780 meters. Their team scores (and margins over second-place in parentheses) through each of the splits? 1800m – 56 points (28); 4000m – 50 points (47); and 5000m – 54 points (54).
How'd they do that? For the second year in a row, the Lakers had an astounding six All-Americans. No other team in the field had more than four (that would be runner-up Hillsdale and third-place Minnesota Duluth).
That second-place team all the way through was Hillsdale, which outperformed its No. 5 pre-meet national rank to earn narrow victories with 115 points over third-place No. 3 Minnesota Duluth's 118 points and fourth-place No. 2 Adams State's 125.
Lesson Learned: Don't Doubt the Adams State Men
Kevin Batt and Matt Daniels both finished top-five to help lead Adams State to another team title.
The Grizzlies came into this meet No. 2 in the country following a pair of near-upsets at RMACs and Regionals, but established very early in the race that it was going to be a long day for everyone else. The trio of Stevens, Batt and Daniels worked their magic one last time (Stevens and Daniels ran their final XC races in ASU uniforms) to finish 1-4-5; reminiscent of the 2-3-4 (Batt, Stevens, Daniels) finish that led them to the national title in 2012.
The question coming into the meet, though, wasn't their three-headed monster: it was the rest of their scoring line-up. Well, Chad Palmer ended up being the best No. 4 runner of any team in the meet by a long shot (14 team points to 30 for Augustana's (S.D.) Glen Ellingson with 30), and fellow frosh Jackson Sayler held on for 47 points in 56th place – giving the Grizzlies 69 points.
With six titles in the past seven years, the Adams State dynasty is now three years in a row and six of the past seven years – tied with Western State from 1999 through 2005 for the most prolific such streak in DII history.
Alan Peterson and Chris May were among Grand Valley State's nation-best five All-Americans.
No. 1 Grand Valley State? They ran well, too, scoring 127 points with ninth-place Alan Peterson leading the way ahead of a group of four other guys Bryce Bradley (27th), Chad Cini (36th), Chris May (37th) and Brady Selner (39th). Today, the answer to the question "low sticks vs. depth" was answered in favor of Adams State, however.
Projecting forward to next year, Adams State loses both Stevens and Daniels, while GVSU loses only Peterson.
Harald Karbo led Augustana (S.D.) to a third-place team finish.
Though GVSU was projected in the USTFCCCA National Coaches' Poll for a tight battle with Adams State, they ended up having to worry more about Augustana and Colorado Mines, which scored 136 and 144 points, respectively.
Led by sixth-place finisher Harald Karbo, the Vikings finished with 136 points behind four All-Americans, with three of five scorers and five of seven runners eligible for next year.
Dan Mahoney, Nathanael Williams and Phil Schneider were among the group that led Colorado Mines to a fourth-place team finish.
Considering its usual No. 2/3 runner Marty Andrie finished a disappointing 119th, Colorado Mines still had three All-Americans – including Phil Schneider getting his fourth such award – with another runner in 42nd just outside AA status. Three-time All-American Derek Alcorn led the way in 14th place.
Kendra Foley's Individual Title: Is it the Start to a New Queen's Reign Atop Division II?
Coming into the meet, the women's individual race was the most up-in-the-air. Grand Valley State's Kendra Foley brought the answer down-to-earth very quickly.
Katelyn Steen and eventual champion Kendra Foley battling through the mud before Foley made her winning move.
Katelyn Steen of Western Washington took the pace out early, pulling a strung-out group of contenders along with her, including Foley. At 1800 meters, Foley, Steen and Winchester were running side-by-side with 13 more runners within five seconds.
At 4000 meters, Foley had put a five-second gap on Winchester, Steen and Bellarmine's Emily Frith. That lead expanded to eight seconds over the next kilometer before cruising over the final 780 meters for a six-second win.
When she crossed the line, she became the first female sophomore to win the national title since Jessica Pixler of Seattle Pacific won her first of three consecutive titles in 2007. Pixler was 10th her first year before her three national crowns; incidentally, Foley was 11th a year ago as a frosh.
Pixler's sum career finish total of 13 (10+1+1+1) is the second-best since the first 6k championship in 1998, behind only Kennesaw State's two-time national champion Marjo Venalainen with 11. Hypothetically, two more wins would position Foley at No. 3 during that time. (Current No. 3 is Alisha Williams of Western State with 30 points, so she has some breathing room).
Among those back to challenge Foley next year are Jenna Thurman and Maura O'Brien of Adams State and Kristina Galat of Hillsdale.
Before getting too far ahead of ourselves projecting into the future, take note that five other top-10 finishers from Saturday are back for at least one more year: third-place junior Janecke, seventh-place junior Kristina Galat of Hillsdale, eighth-place and ninth-place sophomores Jenna Thurman and Maura O'Brien of Adams State, and 10th-place frosh Leah Seivert of Augustana (S.D.).
That's not to mention a trio of top-10 performers from last year in redshirted senior Tara Dooley of Bentley of Bentley, and sophomores Samantha Rivard of Minnesota Duluth (14th Saturday) and Breanna Hemming of Metro State (113th); and a pair of top-15 finishers in 12th-place junior Emily Oren of Hillsdale, the Midwest Region champ, and NSIC champ sophomore Sasha Hovind of Northern State.
Needless to say, she has her work cut out for her.
Allyson Winchester notched her third consecutive top-six finish at NCAAs with a runner-up showing in her final cross country race.
As Foley is starting her reign, teammate Winchester's came to a successful end on Saturday. In her final GVSU cross country race, she was runner-up after finishing third last year, sixth in 2012 and 22nd in 2011. Her sum career finish total after four-All-American honors checked in at 33, which is currently the fifth-best total since Division II switched to the 6k in 1998.
Also of note, another of Foley's teammates in Janecke notched the third top-10 individual showing of her career in a third-place finish. Saturday's performances comes in addition to last year's ninth-place finish and her fourth-place effort as a frosh in 2012. That gives her a 16-point career total, which also gives her significant headroom before approaching Western State's Williams' career sum total of 30.